Out of (any) band for HT50 / P100/ P110 / GP300 / GM300
Getting started
If you want just + / - few MHz from normally limits, you don't need anything else. Just press down the SHIFT key when enter the desired freq. The freq. must be entered with the top number keys NOT the numpad keys !!!
When you are about to enter the decimal point just release the SHIFT key, end enter him normally, and after press down the SHIFT key and enter the rest of the numbers. When you are finished, just release SHIFT and press ENTER.
This method only work within few MHz from the software limits.
If your desired freq. it's far from software limits you must correct a little bit the software. Take a good hexeditor, i.e. HexWorkshop from http://www.bpsoft.com/downloads and pop up the Windows Calculator in scientific mode.
HT50 / P100 Radio ( the very very easyest ... )
Read the radio and save-it to disk.The codeplug should look like this :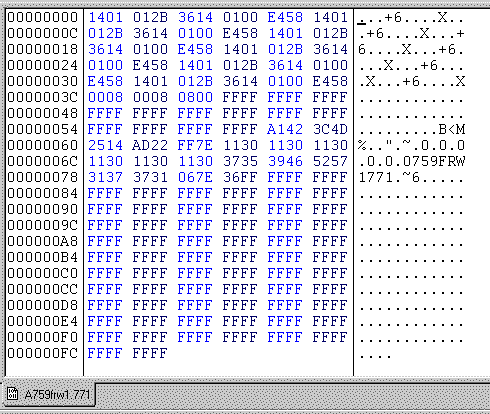 Take a look at the beginning of FF FF FF FF FF FF FF end of file. It is the name of the codeplug ...759FRW1771 and after, we have 06 7E 36. You should replace your three values with those.
This is the entire capture of the codeplug. The HT50 / P100 doesn't use any kind of additional files and doesn't require nothing else for out of band programming. The codeplug it's saved on disk still crypted, but we can adjust HT50.exe to resolve this problem. For our propose, it's not necesary to do that.
If this doesn't work, just edit the dbf file located in Archive directory to replace entry for your codeplug and add this one captured here. This is a 6 channel test codeplug, all of them has 145.0000 MHz on Tx and Rx, without CTCSS ( TPL ).
Out of band should work even with your codeplug, write some freq. within your accepted band and after keep down the DOWN ARROW until you get the desired ham freq. ( keep for a while ..... )
Unfortunelly, this old radio has a narrow band VCO, very compact in a small metal case, and for ham band you probablly should break his case and increase the coil value somehow. Also, you must realign the Rx section wich is on some mosfet wich i saw, and Tx ( with a big trimmer ...hi )
That's it, it's a very old radio, and if someone has a schematic, I would apreciate very much at
GP300 5T Radio ( the easyest ... )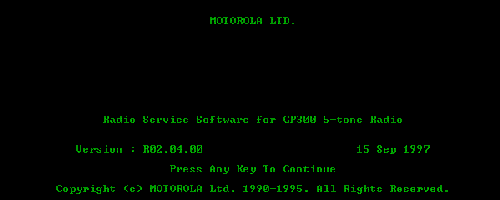 First of all, read the radio and write down exactlly the actual limits of the software. I.e. 438 - 470 MHz. Amazing ..., the 5T radios doesn't encode / encrypt this informations at all. In the file called gp300_5t.gdt, these informations are more than clear.
The low and high band stopers are just in hexadecimal notation, i.e. 438 ( 438000000 ) it's 1A1B5980 but in the file it's actual write in reverse hexa notation 80591B1A.
So, if you are looking for 438 you should look for 80591B1A occurence in the file.
Another example is for 146 wich in normal hexa is 8B3C880 and in the file you will find reverse 80C8B308.
Just calculate your actual software limits in the same manner and write down on a paper.
Calculate also the new ones ( your desired limits ... ) and write down either.
Open the file called gp300_5t.gdt in HexWorkshop.
Go to Edit / Replace menu and in Find field put the originally string ( discussed above ) and in Replace field put your new string.
Replace ALL ocurrences finded in the file, but take care ! make backups first ... with motorola, you'll never know ...and save the file.
Remark, in the software ( the right conner on top ) the limits are original limits but, who cares ..?!
You can edit the gp300_5t.gtx to resolve this "estetical" problem but like I said, who cares ?!
When you enter the freq. normally ( without SHIFT key ...! ), the software will scream a little bit about something but will hold these values. Take care with the "ref divider" column wich must be the same as the apropiate original value. I.e. for the original value 438.000 MHz, in my case the ref column has 2.1 / 2.1. It's logically on 432.000 MHz you must enter the same values and so on for the high band stopper.
OK, that's all folks for 5T models.
GP300 NORMALLY Radio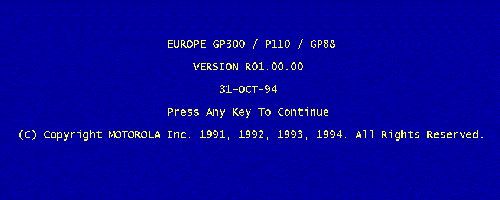 The miracle it's in the gp300.mdf file.
The diffrence between 5T radio and normal radio is in the way wich software interprets the files on hard disk.
ATTENTION !!!
The gp300.mdf file has a checksum of 16 bit wich depends of version of gp300.exe software. For software between 1.00.00 and 6.00.00, the checksum of the gp300.mdf file must be 6528. For software 7.00.00 and 8.00.00, these checksum is 3CB1.Anyway, use your checksum!
Load your mdf file in HexWorkshop and compute your checksum first and writ-it down on a paper. Unlike 5T version, where in hexa speaking, we found i.e. 438000000 for 438 MHz, the GP300 Normal Radio has these informations in mdf file for all supported models.
Start with adress 458h and finish wih 4EAh we'll find the lower and higher stopbands, in reverse hexa notation, consecutivly low and high stoppers, three times.
458h - model UHF 450 - 470 MHz
466h - model VHF 136 - 162 MHz ( direct usable, suitable for our ham band, synthesis loop within look faster )
474h - model VHF 146 - 174 MHz ( very popular, easy to find second hand on public services)
482h - model UHF 403 - 433 MHz ( direct usable, suitable for our ham band, synthesis loop within look faster )
490h - model UHF 438 - 470 MHz ( most popular and suitable for our ham band, synthesis loop within look faster )
49Eh - model UHF 465 - 495 MHz
4ACh - model UHF 490 - 520 MHz ( rare )
For example, at adress 474h will find 6 interesting bytes:
B405 CC06 B405 CC06 B405 CC06
Like I said, three times of two bytes consecutivly.Reversing the hexa notation we'll obtain 05B4 06CC 05B4 06CC 05B4 06CC, and with a little transforming ( hexa to decimal ) we could say 1460 1740 1460 1740 1460 1740.
There are three of them because one it appears on description with F2 menu, other it's for message "The range is 136 - 174 MHz bla bla " and one for transmission to radio / rss I think. Who cares ...?!
These are the stoppers for some models. Try your imagination and compute your values for example between 100 MHz and 200 MHz radio !!!
Of course, the synthesis within the radio wouldn't let you to do this hardware ( PLL loop will crash or time to PLL look will increase ) but don't worry, anything it's possible, but a little bit later !
So, just recompute your needs using the windows calculator in scientific mode, and write them with HexWorkshop at proper adress discussed above. Don't forget to reverse the hexa values when write !
Before saving, go to the top of the file and write some aleator hexa values, overwriting the descriptions of the radios models in that way the hole checksum of the gp300.mdf file remains at initial value ( very important ! ).
At this time you should have a ( very ) large band radio model.
If you are a maniac and / or you really need huge out of band your radio, just do the same thing and readjust yours VCO's within the radio.
The easyest way it's to pull up the freq. of normally operation because the feritte of coils needs to pull out. Normally, you'll get the proper operation of the radio in the 220 MHz band with a 174 maximum radio with this modifications. So pull up the two feritts ( Tx and Rx one ) untill the VCO loop it's OK. If you have a lab it's very easy to do it. Realign first the Tx because the out freq. it's what you program, and after the Rx VCO wich has the Tx freq. + 45.1 MHz ( higher )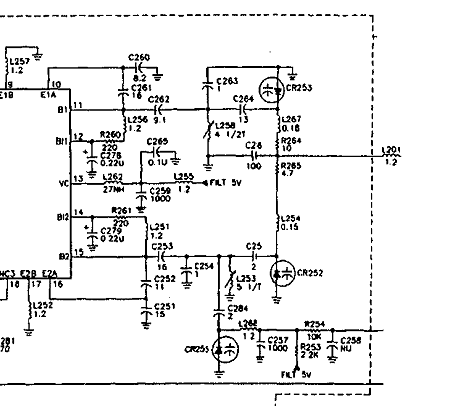 The Tx coil it's L253 and it's the most nearly of the left margin of PCB ( side with uController, antenna in top view ), and the Rx one it's near Tx coil. Anyway, that's the only points to align hardware in the hole radio, so you can't miss them ....hi ( great radio )
The front end of this AMAZING kind of radio it's WIDE BAND one, so don't worry, the sensitivity won't crash at all. The power module called MHW607-2 or SHW5066 probablly will not give the same 6 - 7 W, but 3 - 5 at worst case at 220 MHz.
I am looking for these power module datasheets, any help please contact me.
GM300 mobile radio
It's the same like GP300, you should work around adress 2BAh ( the first entry of stopbanders ) in the gm300.mdf file. Do the same logic on GP300 and you'll be very happy. Take care with checksum also.
Anyway, don't expect to modify a VHF radio to make a pirate 88 - 108 MHz radio or to transmit on GHz.